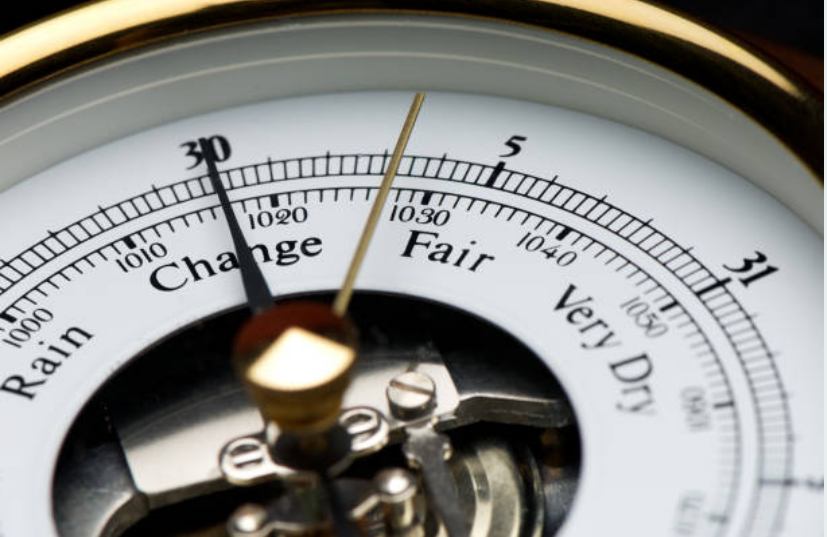 The Swiss CIO Barometer 2021: results and analysis
When the Swiss CIO Barometer was launched in 2015, our common objective was, together with our partners Finnova AG and the IFZ of the Lucerne University of Applied Sciences and Arts, to provide a forward-looking vision of the strategies implemented by the IT departments of the Swiss banks. This repeated picture of the market situation is now an integral part of the study that IFZ publishes in the first quarter of each year. Here are some extracts of the last survey.  |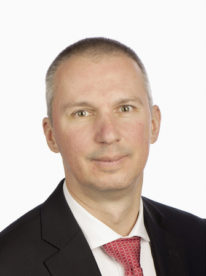 Survey conducted by
Dr. Thomas Ankenbrand
Institute of Financial Services Zug
Lucerne School of Business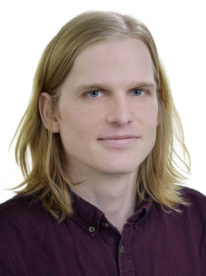 with
Denis Bieri
Institute of Financial Services Zug
Lucerne School of Business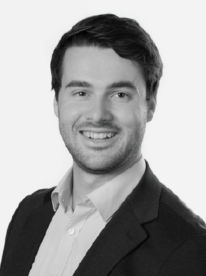 and
Marc Grau
Institute of Financial Services Zug
Lucerne School of Business
The fifth edition of the CIO Barometer survey was conducted starting in December 2020, with the structure being kept similar to the previous surveys in order to guarantee the comparability of results. 238 representatives of Swiss banks' IT departments were contacted and asked to complete the survey. 48 completed questionnaires were returned, resulting in a response rate of 20 percent.
Due to the relatively small size of 48 participants, the results are not considered to be representative for the Swiss banking sector. In addition, compared to the results in SwissBanking (2020a), the distributions following the bank group, balance sheet volume, and assets under management differ from the overall distribution of the underlying population. Smaller banks tend to be overweighted and foreign banks are represented less in this survey's sample. Nonetheless, the results of the survey still provide a helpful overview of the strategic priorities and further developments in the Swiss banking sector with respect to aspects concerning information technology.
The IT Balanced Scorecard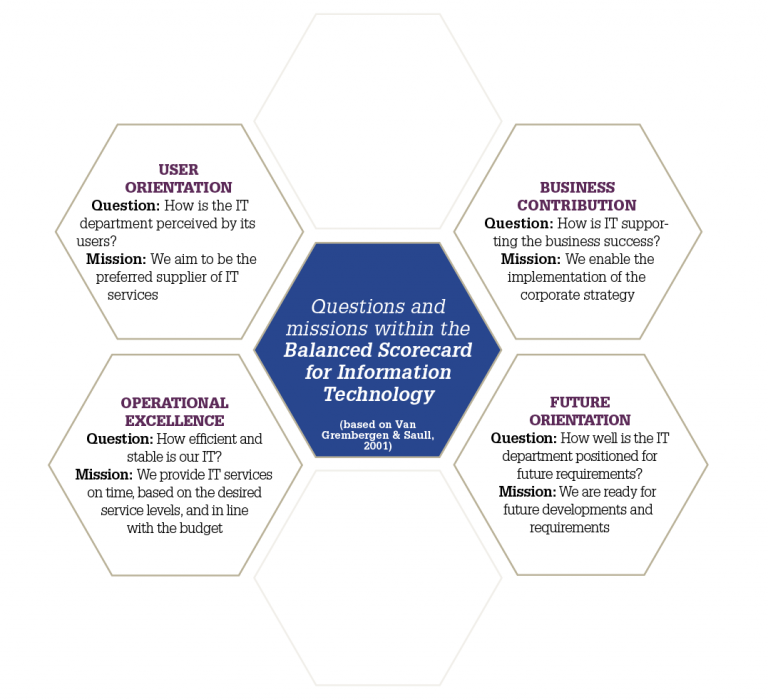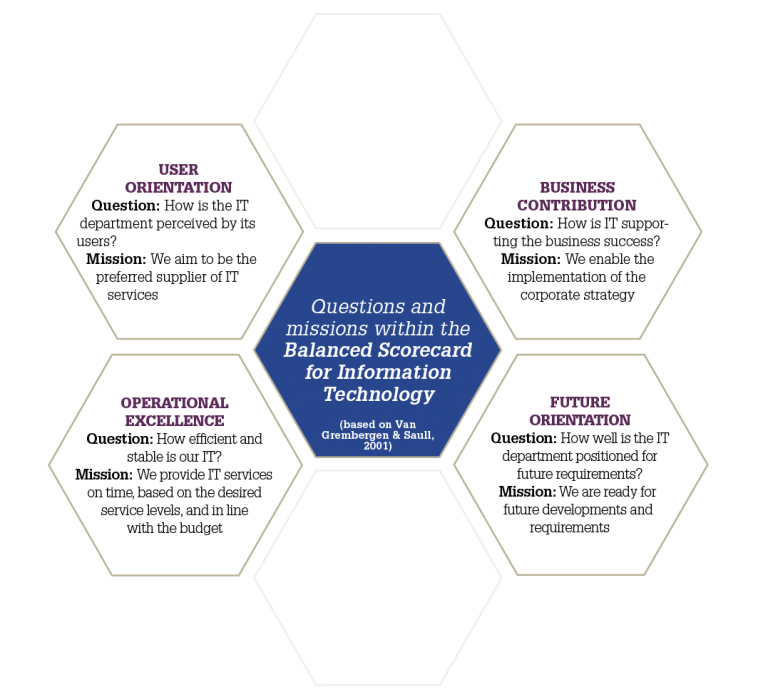 The concept of IT balanced Scoreboard
Digitalization and technological progress pose challenges for today's banks, especially in the field of information technology. Banks are affected by technology on the following fronts (Capgemini & Linkedin, 2018):
New business models
Faster and more efficient service
Transparency and free services
Personalization
Pressure on margins and fees
Predictive modelling and advanced data analytics
Innovative distribution models
Access to unserved/underserved segments
Operational efficiency
In order to efficiently structure the different dimensions of a bank's IT department, we applied the IT Balanced Scorecard concept by Van Grembergen and Saull (2001), which is based on the original balanced scorecard approach from Kaplan and Norton (1996). Rather than focusing solely on financial targets, the scorecard seeks to develop and monitor a balanced set of nonfinancial measures too, such as the regard for customers, processes, or the degree of innovation.
The four dimensions of the IT balanced scorecard applied for this analysis include:
User Orientation
Business Contribution
Operational Excellence
Future Orientation
which again contain three subtopics each. In general, the dimension User Orientation covers the user perception of the IT department, whereas Business Contribution aims to measure its value creation. Operational Excellence deals with the efficiency and effectiveness of IT processes and Future Orientation examines processes and resources required to ensure innovation capabilities. The IT balanced scorecard is suitable to determine and describe strategic directions of a bank's IT department and was thus chosen as the structural framework of the survey.
Chart 1 – The Business Contribution dimension (average: 3.10)
Chart 2 – The Operational Excellence dimension (average: 3.06)
Chart 3 – The User Orientation dimension (average: 2.84)
Chart 4 – The Future Orientation dimension (average: 2.56)
The survey results for the four different mentioned dimensions are shown in charts 1 to 4. The highest prioritized dimension, on average, is business contribution, followed by operational excellence with average scores of 3.10 and 3.06, respectively. While user orientation yields an average score of 2.84, future orientation is the least important dimension, but still yields a score of 2.56.
Compared to the results of last year's CIO Barometer, all dimensions remain prioritized in the same order. The average priority per dimension has not changed substantially, either. Hence, banks are consistent in their beliefs and the environment banks are active in has apparently only changed marginally. The dimension user orientation is the dimension with the sharpest decrease with an average score of 2.84, resulting in a decrease of 0.1 points. While business contribution also suffers a slight decrease of 0.06 points, operational excellence and future orientation reveal a slight increase in importance of 0.01 points and 0.08 points, respectively.
With regard to the individual indicators, "IT security" remains the leading indicator across all dimensions with an average score of 3.54. However, compared to last year's result (74%), only 56 percent of all participants declare it a very high priority. When looking at the development of the second most important indicator, i.e., "adaption of regulatory requirements", with an average score of 3.27, this year's result is in line with last year's observation. Other important indicators are "client experience" and "digitization/optimization of business processes", with an average score of 3.15 each. The least important indicators are "omni-channel distribution" (2.48) and "development of ecosystems" (2.23). Both indicators, however, are expected to grow in importance for the foreseeable future. The expected priority score assessed for five years ahead of when the survey took place, increases for both indicators by 0.71 and 0.6 points, respectively, which are the highest increases in expected priority across all indicators.
Chart 5 – Priority averages of the four dimensions over time
Chart 5 provides an overview of the development of all average scores per dimension. The expected average score in 2025 is derived from this year's survey participant's expected priority each indicator will have in five-year time. The average importance of all dimensions is anticipated to be higher in five years. Contrary to current priorities, the dimensions user orientation and future orientation tend to gain more importance, in a relative perspective. This growth in importance, however, cannot only be explained by a focus on omni-channel distribution and the development of ecosystems, respectively. Notable increases in priorities are also recorded for mobile applications (+0.58) and reduction of time-to-market of new products and processes (+0.46). In the two currently most important dimensions, the reduction of IT operating costs (+0.36) and digitization / optimization of business processes (+0.35) increase the most. The only indicator considered to be less important in the future is the adaption of regulatory requirements (-0.08). With an average score of 3.73, IT security is still expected to be the most highly prioritized indicator in five years (+0.19).
It appears that the bank's IT departments allocate a higher priority to digitizing their business in the future. On the one hand, services and products are expected to be improved and made available through multiple channels to serve clients more products in whichever way they prefer. In addition, banks increasingly aim to embed their services into ecosystems to combine with other services to provide added value. On the other hand, digitization is expected to decrease costs and lead to a reduction in time-to-market for these services. While leveraging possibilities enabled through digitization, IT security and therefore customers' trust into banks remains a high priority.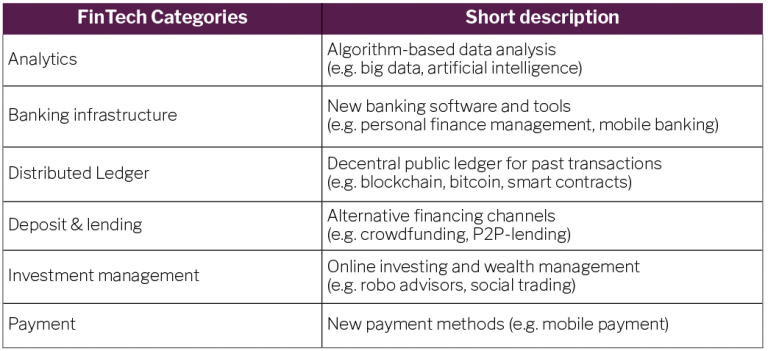 Ranking of priority of Fintech categories

Current Projects and Future Impact of FinTech
Chart 7 – General and Administrative costs

Development of IT related costs
Chart 6 and 7 show the banks' cost allocations and the fractions associated to information technology. The chart on the left-hand side reveals that only 16 percent of labor costs are affiliated with information technology. On the contrary, general and administrative costs, as shown by the chart on the right-hand side, are driven significantly by expenses for information technology. Both results are almost identical to the results of last year's study. The larger share of IT related costs in general and administrative costs compared to the share in labor costs could potentially be explained by a relatively high degree of outsourcing.
To gain a better overview of how costs are allocated within the IT department, the participants were asked to assess the relation between costs associated with running-the-bank, i.e., efforts for ongoing operations, and changing-the-bank, i.e., efforts for development and innovation. Possible answers range from 100 percent change-the-bank and zero percent run-the-bank to the opposite zero percent change-the-bank to 100 percent run-the-bank.
Chart 8 highlights that the majority of the participants focus on run-the-bank activities. One third of all participants allocate at least 80 percent of their resources on ongoing operations. More than half of the participating banks have a mix of 60 percent run-the-bank and 40 percent change-the-bank IT costs. A small share of banks invests more resources in innovative activities rather than operational activities and therefore have an allocation of 60 percent change-the-bank and 40 percent run-the-bank. Compared to last year's results, where more than half of all participants allocate at least 80 percent of the resources to running the bank, banks increasingly tend to contribute more resources to change-the-bank activities.
Chart 8 – Run the Bank vs Change the Bank

A higher allocation of resources to change-the-bank activities and high future priorities on the improvement of processes and products shows that banks increasingly tend towards more innovative activities and try to extend their offering by leveraging technology and end-to-end digitization of products and processes.
Although currently not of greatest significant, omnichannel distribution and the development of ecosystems are expected to gain in relevance in the future. The current situation, however, is still mainly characterized by relatively high expenditures for ongoing operations and a focus on IT security and adaption of regulatory requirements. Hence, banks are turning towards a more active role in the development and strategic planning of their business models and processes, but existing issues are still a major factor in the current setting.
In line with the above, a joint study by the Swiss Finance Institute (SFI) and ZEB on the digital maturity of banks with a focus on Switzerland reveals similar results. Swiss banks are leading in developing digital strategies compared to European peers. Established institutes are starting to catch up to digital leaders such as neobanks.
Nevertheless, the materialization of concrete projects and processes originating from strategic planning remains an issue and still hampers the digital transformation. In addition, two thirds of all banks in the study by SFI and ZEB are eager to extend their business model through digital ecosystems, which is in line with the expected priorities in the results of the survey conducted in the present study. However, when it comes to implementation, they still see issues in a lack of both clear business cases and the availability of necessary skills within the bank's workforce (Fahlenbrach et al., 2021).
To conclude, banks are actively pushing their digital transformation forward. Strategies and priorities are clear, and investments start turning more towards change-the-bank activities. Nonetheless, these visions have yet to be put into practice.
Download the full IFZ Fintech Study 2021 here.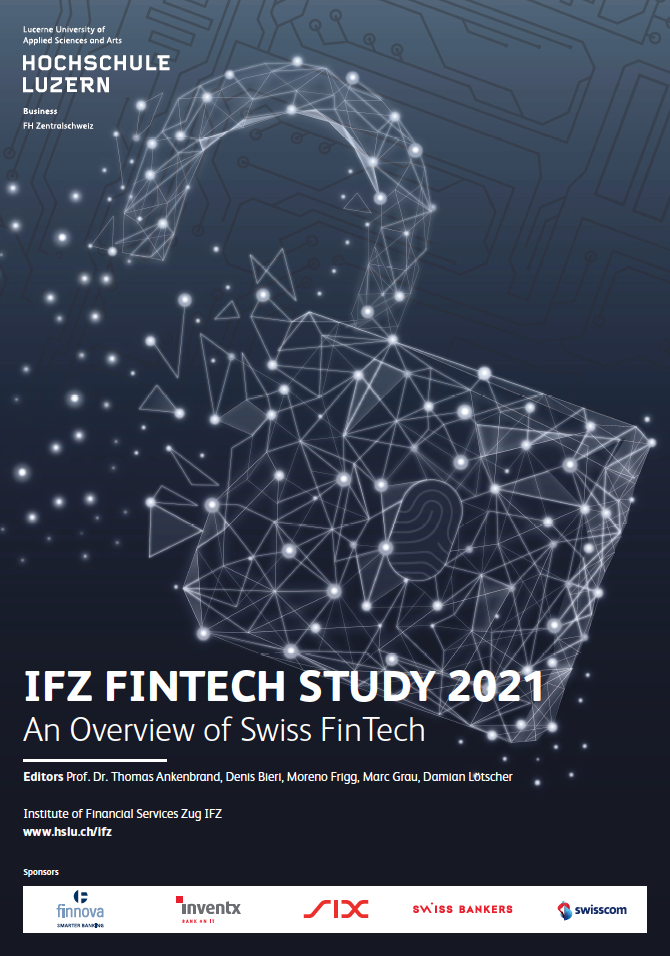 Methodology and Statistical information
The three charts displayed here provide an overview of all the participating banks:
in Chart 9, banks are segmented into bank groups. The majority of all responding banks (42%) are regional banks, saving banks, and the Raiffeisen bank summarized as a single institution. Cantonal banks comprise the second largest group with a share of 23 percent. The remaining 35 percent include foreign, private, big, and other banks.
Chart 10 shows the distribution of participating banks with regard to the volume of the balance sheet. Over half of all banks have balance sheet volumes smaller than CHF 3 billion. Medium sized banks make up 23 percent and 19 percent of participating banks have balance sheet volumes between CHF 25 and 50 billion.
Chart 11, presenting the proportions according to assets under management, shows a similar distribution. More than half of the participants manage less than CHF 3 billion assets. However, there are more banks with large volumes compared to last year. Ten percent of all participants have more than CHF 50 billion assets under management, which reflects the importance of the Swiss financial centre in wealth management.
Chart 9 – Bank groups (%)
Cantonal Banks
Regional & savings banks, Raiffeisen
Other banks incl. Big Banks
Private Banks
Foreign Banks
Chart 10 – Balance sheet sizes (%)
Less than CHF 1 bn
From CHF 1 bn to 2,9 bn
From CHF 3 bn to 9,9 bn
From CHF 10 bn to 24,9 bn
From CHF 25 bn to 49.9 bn
CHF 50 bn and more
Chart 11 – Assets under Management (%)
Less than CHF 1 bn
From CHF 1 bn to 2,9 bn
From CHF 3 bn to 9,9 bn
From CHF 10 bn to 24,9 bn
From CHF 25 bn to 49.9 bn
CHF 50 bn and more